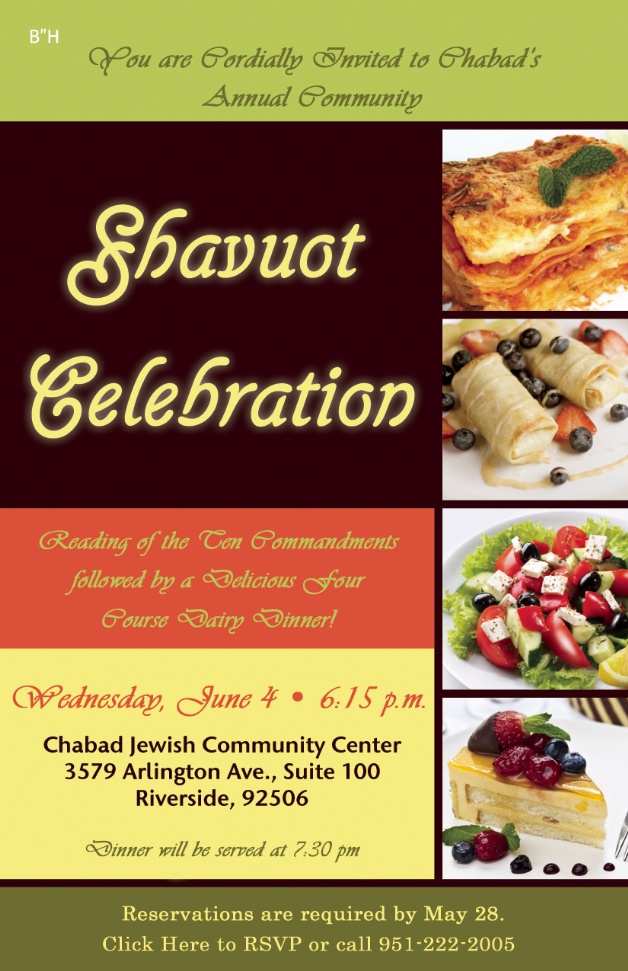 Shavuot Celebration
Reading of the Ten Commandments followed by a Four Course Dinner

Wednesday, June 4 @ 6:15 p.m.
Chabad Jewish Community Center
3579 Arlington Ave. Ste. 100
Riverside, CA 92506
Catered by Pedouth Isti of Orange County
Prices:

Before May 25...

$25.50 adult
$15.50 child (ages 5-11)

After May 25...

$30.00 adult
$20.00 child

(ages 5-11)

Co-sponsor

(includes 1 ticket)

...

$100.00

Sponsor

(includes 2 tickets)

...

$180.00

RSVP required by May 30.


---
The Torah was given by G‑d to the Jewish people on Mount Sinai more than 3300 years ago. Every year on the holiday of Shavuot we renew our acceptance of G‑d's gift, and G‑d "re-gives" the Torah. The word Shavuot means "weeks." It marks the completion of the seven-week counting period between Passover and Shavuot. Read more about Shavuot here.