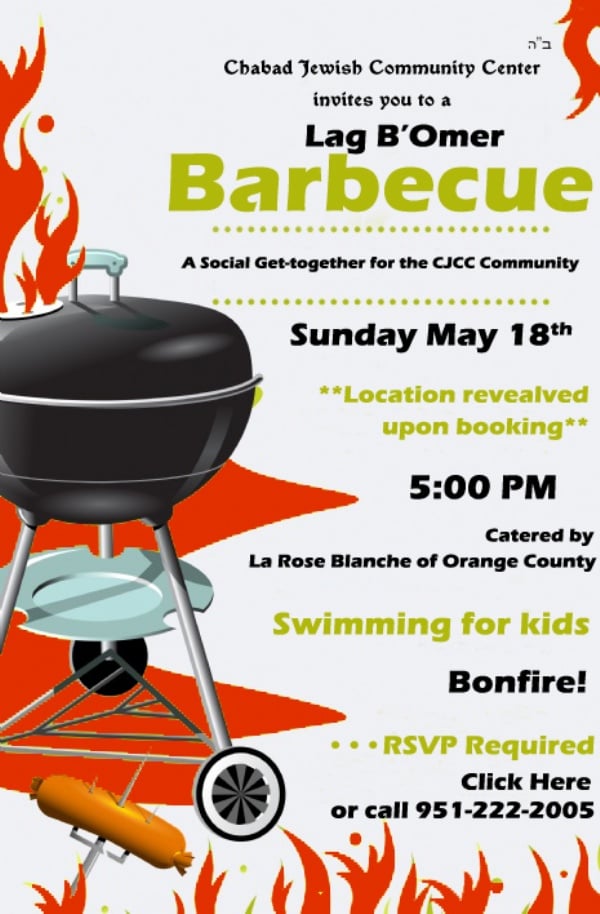 Lag B'Omer Barbeque
A Social Get-together for the CJCC Community

Sunday, May 18 @ 5:00 p.m.
**Location revealed upon reservation**

• BBQ catered by La Rose Blanche of Orange County
• Swimming for the kids
• Bonfire
Prices:

Before May 7...

$24.50 adult
$15.00 child(ages 5-11)

After May 7...

$30.00 adult
$15.00 child

(ages 5-11)

Co-sponsor

(includes 2 tickets)

...

$100.00

Sponsor

(includes 4 tickets)

...

$180.00

RSVP required by May 14


---
Lag B'Omer, this year, May 18, 2014—is a festive day on the Jewish calendar . It is celebrated with outings (on which the children traditionally play with bows and arrows ), bonfires, and other joyous events. Many visit the resting place (in Meron, northern Israel) of the great sage and mystic Rabbi Shimon bar Yochai , the anniversary of whose passing is on this day. Read more about Lag B'Omer here.