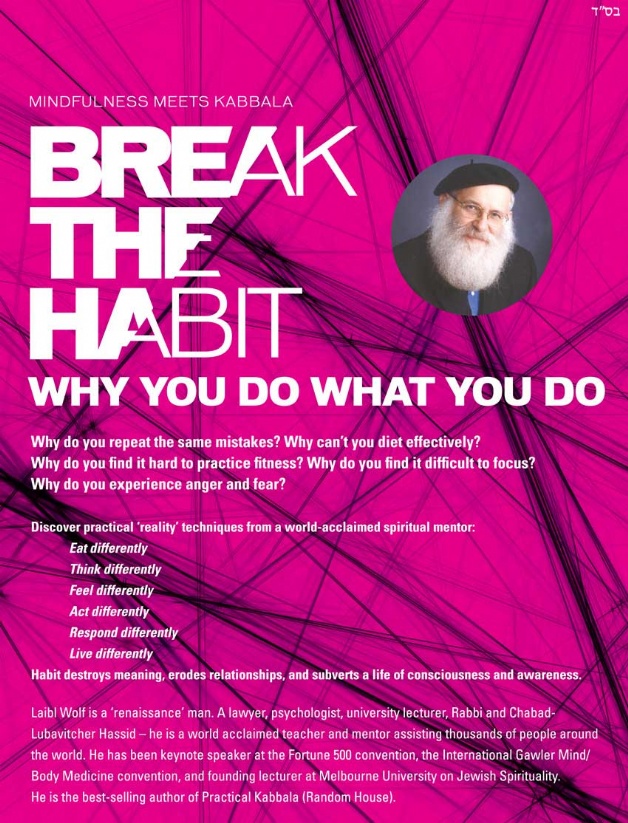 BREAK THE HABIT
Why You Do What You Do
with Rabbi Dr. Laibl Wolf

Tuesday, May 6 @ 6:30 p.m.
Chabad Jewish Community Center
3579 Arlington Ave. Ste. 100
Riverside, CA 92506

Why do you repeat the same mistakes? Why can't you diet effectively?
Why do you find it hard to practice fitness? Why do you find it difficult to focus?
Why do you experience anger and fear?
Discover practical 'reality' techniques from a world-acclaimed spiritual mentor:
-Eat differently, Think differently, Feel differently, Act differently, Respond differently, Live differently.
Habit destroys meaning, erodes relationships, and subverts a life of consciousness and awareness.
---

Laibl Wolf is a 'renaissance' man. A lawyer, psychologist, university lecturer, Rabbi and Chabad Lubavitcher Hassid - he is a world acclaimed teacher and mentor assisting thousands of people around the world. He has been keynote speaker at the Fortune 500 convention, the International Gawler Mind/Body Medicine convention, and founding lecturer at Melbourne University on Jewish Spirituality. He is the best-selling author of Practical Kabbala (Random House).
Prices:

Before April 15...

$20.00 per person

Before April 28...

$25.00 per person

After April 28...
$30.00 per person
Co-sponsor

(includes 2 tickets)

...

$100.00

Sponsor

(includes 4 tickets)

...

$180.00